What a great night tonight, seeing Saigon street food at its finest!
This morning I was feeling a bit down and overwhelmed, but I decided to book a street food tour for the evening and boy am I glad I did!
I emailed Saigon Street Food Tours sure that I wouldn't be able to book a tour for that very evening, but they had room for me! Saigon Street Food Tour got great reviews on Trip Advisor, and I can see why.
The tour started off with Lam picking me up on a motorbike from my hotel. I was a bit nervous about hopping on the back, but Lam was a great and safe driver. It took a minute, but I finally managed to kick back, relax, and embrace the chaos that is Saigon scootering. We hopped over to meet up with other eaters and go to our first stop in the tour.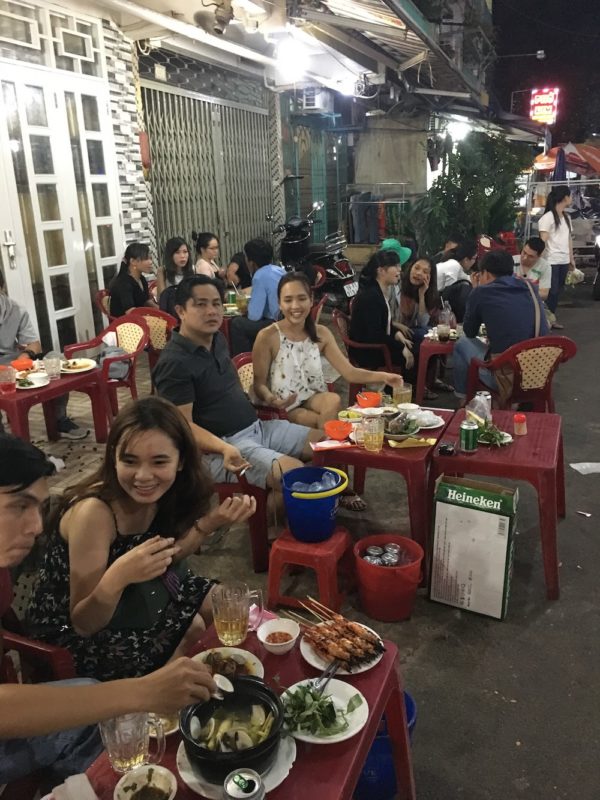 Our guide explained some key elements of how to detect great street food.
Look for a line (the more locals eating there, the better the place is)
Make sure it's well lit (good food wants to be seen by prying eyes)
They should only serve one dish
You should be able to see the chef making the food (not watching seller slink to a back room where who-knows-what is happening)
Avoid moving stall that aren't there permanently or aren't attached to a home. Carts only have a bucket of water to use for their hand washing, cleaning, etc, so sanitary fears are legitimate. Permanent structures that are attached to homes or larger buildings mean access to running water, and less danger to your gastrointestinal track.
Our first dish was Bahn Xeo – the crunchy fried pancake tasted incredible tucked inside the contrasting soft, leafy pile of greens.
For a challenge dish, we were presented with a duck embryo! At first I was adamant about not trying it – my stomach turned just looking at it. However, a few folks were able to have a small taste of the yolk section, avoiding the actual duck form. I decided to jump in and had a bit of the yolk.
It tasted like a strong flavored egg yolk, but overall not so different. I asked our guide if it counted and he agreed that it did, so challenge completed!
Next we walked over to a banh mi stall and had a little sample of the much-beloved bahn mi. I'll admit I think I prefer the non-pate, American-ized versions I've had in the past. But of course it was still delicious and the real deal!
Next, we hopped aboard the scooters and went to a seafood spot. We were served conch in a buttery garlic sauce, scallops in a sweet, spiced sauce, clams with lemongrass broth, and another type of scallop with roasted peanut sauce. Everything was INCREDIBLE – I could have eaten that stuff all day!
One thing I couldn't get over was how amazing just a light sprinkle of chili fish sauce on the clams tasted – the vinegar with the lemongrass broth and clam was just the perfect combination. American chefs need to take note!
We leaped aboard our motorbikes and adventured across town, experiencing how real locals navigate the loud, humming, bustling night streets of Saigon.
We then had a beef in bitter leaf meat, mixed with noodles, basil, mint, and pickled carrots.
Finally, for dessert, we had ice cream and smoothies at a local sweet spot.
I left with a full belly and a true taste of Ho Chi Minh city. The food was incredible, but so was the company – my fellow tourists were a lovely bunch of folks from the US and Australia. It was a joy chatting with and getting to know them. Our tour guides were simply incredible and delightful. Lam told us about life as a Vietnamese student and the academic pressure that's often put on students (similar to most other areas of Asia). He is an aficionado of all things American – he likes hip hop, video games, and American television shows (he's just finished Breaking Bad for the 3rd time). He's studying in IT and hopes to move to Silicon Valley one day!
As I said, the food was great, but having a chance to talk and ask questions to our friendly and knowledgeable Vietnamese tour guides was likely the best aspect of the entire tour. We talked about how communism has affected them, what the general population's feeling is towards the government, what Vietnamese family life is like, and so much more!
I know I was feeling a bit out of sorts my first day, but this tour has really turned things around for me. A truly fantastic night in Saigon!