The next morning I got up early (at least by my standards) for a packed day of sightseeing.
Tsukiji Fish Market 
I couldn't miss this classic Tokyo experience that guidebooks often go on about. But surprise – I did miss it! When they say you have to show up at 5am, they aren't kidding. By the time I arrived, all the cool fish auctioning had long ended. Still, it was fun to wander up and down the very active and packed streets where restaurants were making fresh sushi dishes from that day's catch, along with other vendors selling their wares.
There's definitely plenty of tourism in Tokyo – in fact, someone at our hostel claimed that Tokyo's tourism has doubled in the past few years. Despite this, I was surprised to find that seeing other white people while out and about was pretty uncommon. There are plenty of other Asian tourists, and while white tourists are certainly more common than in Seoul, I had expected many, many more, especially considering Tokyo's international business reputation. But no, I still got stares on subway, that's for sure!
Anyway, I really wanted some breakfast sushi, but many lines for the cute little, doubtlessly amazing, sushi places wrapped out the door and down the street for a block. I got lucky and found a less inhabited spot for breakfast, where I ordered salmon, tuna, flying squid and octopus sushi.
I loved seeing the chefs make it up right in front of me, as well as being greeted with a hearty welcome right when walking through the door (this is common practice in Japanese restaurants).
After my sushi breakfast, I wandered about a bit, stumbling across one very small but very active shrine. I found out later it was a special celebration day, which is why shrines like these were so packed that Saturday!
Since it was a beautiful day, I decided to forget the subway and walk to my next attraction in the Ginza shopping area.
Ginza Shopping Mall: Crazy Prizes for the Crazy Rich
The Ginza shopping area is full of glitz and glamour – it's where the rich go to drop big dough. I'd heard that the basements of these fancy shopping complexes were pretty extravagant, so I really wanted to check it out.
Sure enough, the basement floors were full of foods, with everything from gourmet desserts and high-class delicacies to piles of kimchi and classic rice balls. There's some famously outrageous stuff here – I spotted a 15 pack of strawberries for $43!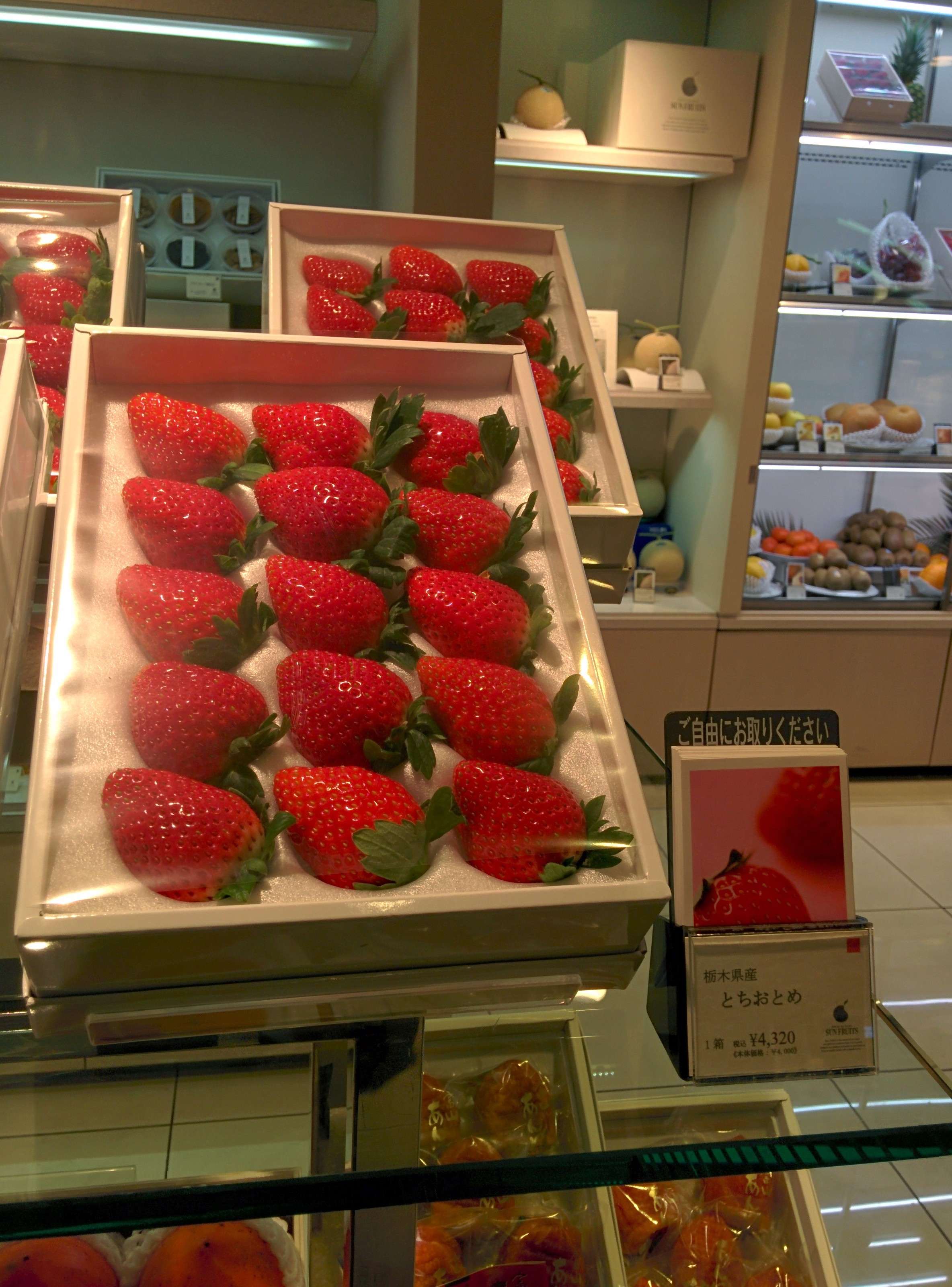 Also, adorable cookies!
As well as some very complicated toilets…
In other stores along the way to Ginza, I also spotted some pretty funny stuff, including a Hello Kitty air humidifier, and a store packed with manga.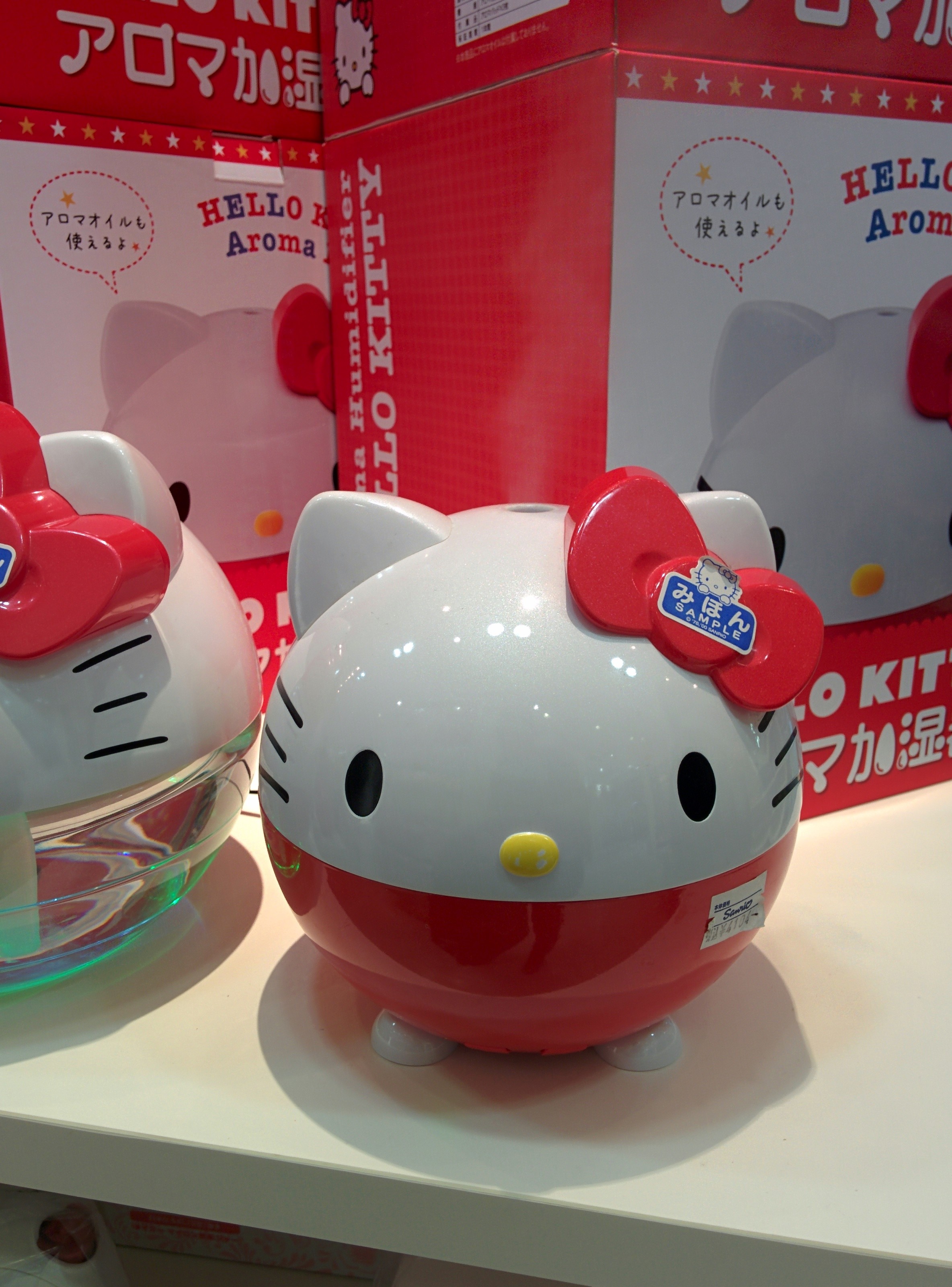 Next I decided to continue my hike to the Imperial Palace. It wasn't exactly an easy walk – it was long and hot, and I felt pretty gross by the end (yet looking around me, everyone seemed happy in their winter jackets so not sure what my problem is). When I arrived…it was closed. Wish someone had told me it would be closed on the weekend (possibly due to the fact that it was a long holiday weekend, not sure).
Wallowing in self-pity, I treated myself to some green tea ice cream!
I was pretty tired by then, but was determined to see as much as possible, so next I headed to…
Asakusa
Asakusa is really neat – it's one of Tokyo's older traditional areas, and features the Sensoji temple as well as the Asakusa shrine around the corner.
In retrospect, I now understand why it was SO crowded at Asakusa when I went – because of the special Saturday celebrations. Of course I had no idea about that then, as I struggled to push my way through packed crowds along the main shopping arcade and up to the temple.
I had fun picking out some souvenirs for friends and checking out the impressive architecture and decoration of the temples and shrines.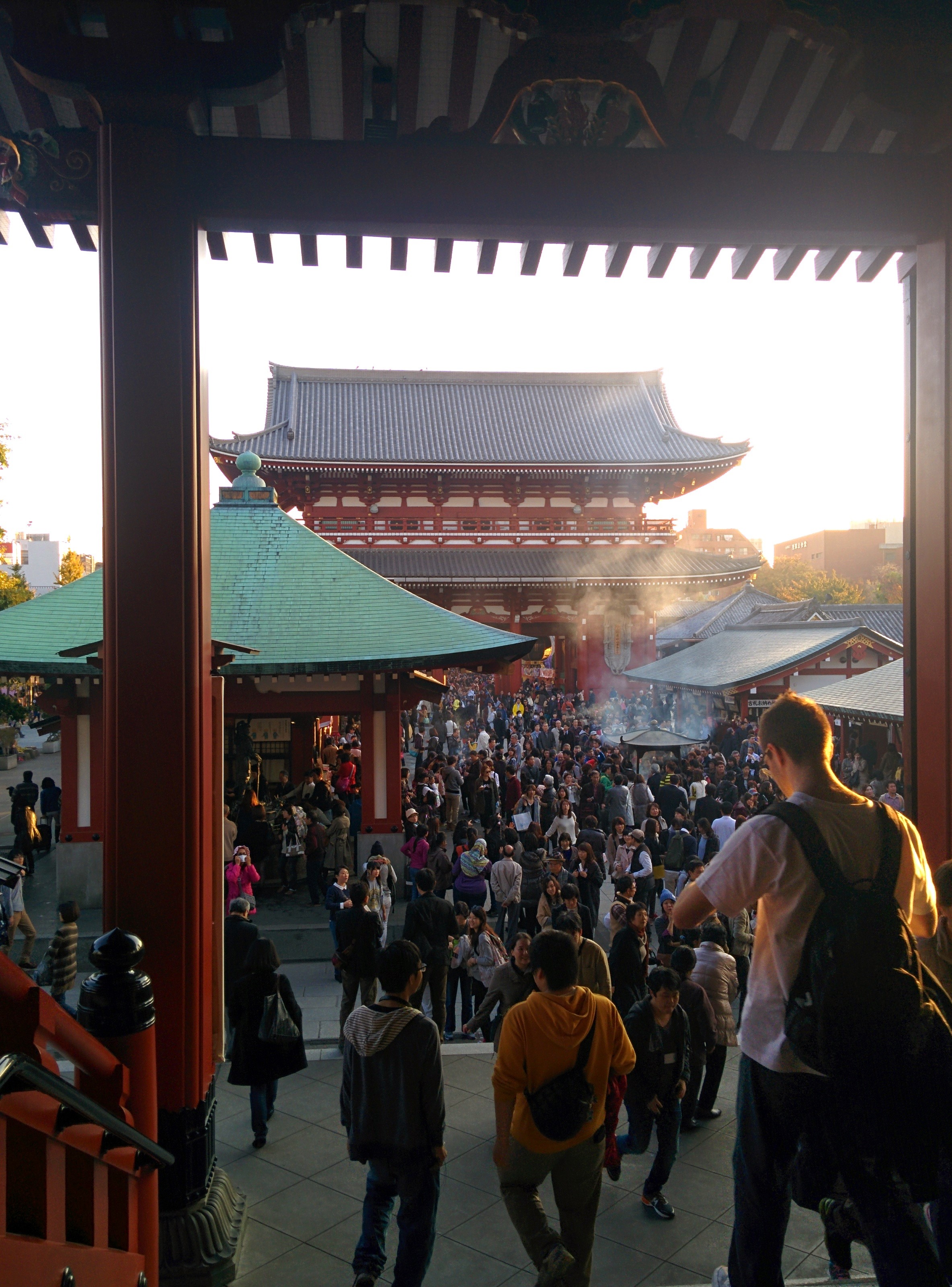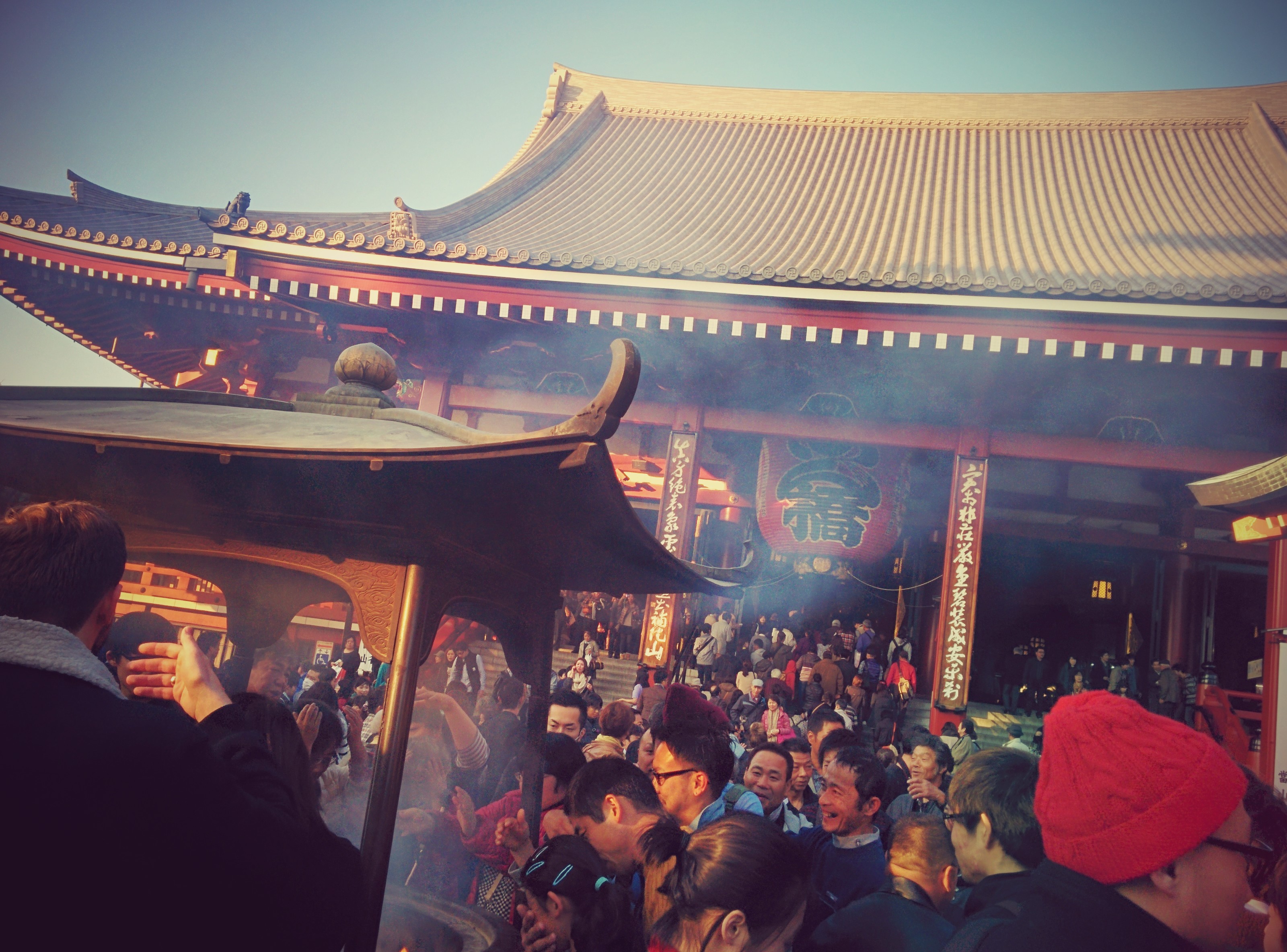 I even caught a wedding precession outside the Shinto shrine.
As night came, I spent a bit more time wandering around Asakusa, watching Tokyo residents eat in tent restaurants and checking out the Tokyo Sky Tree!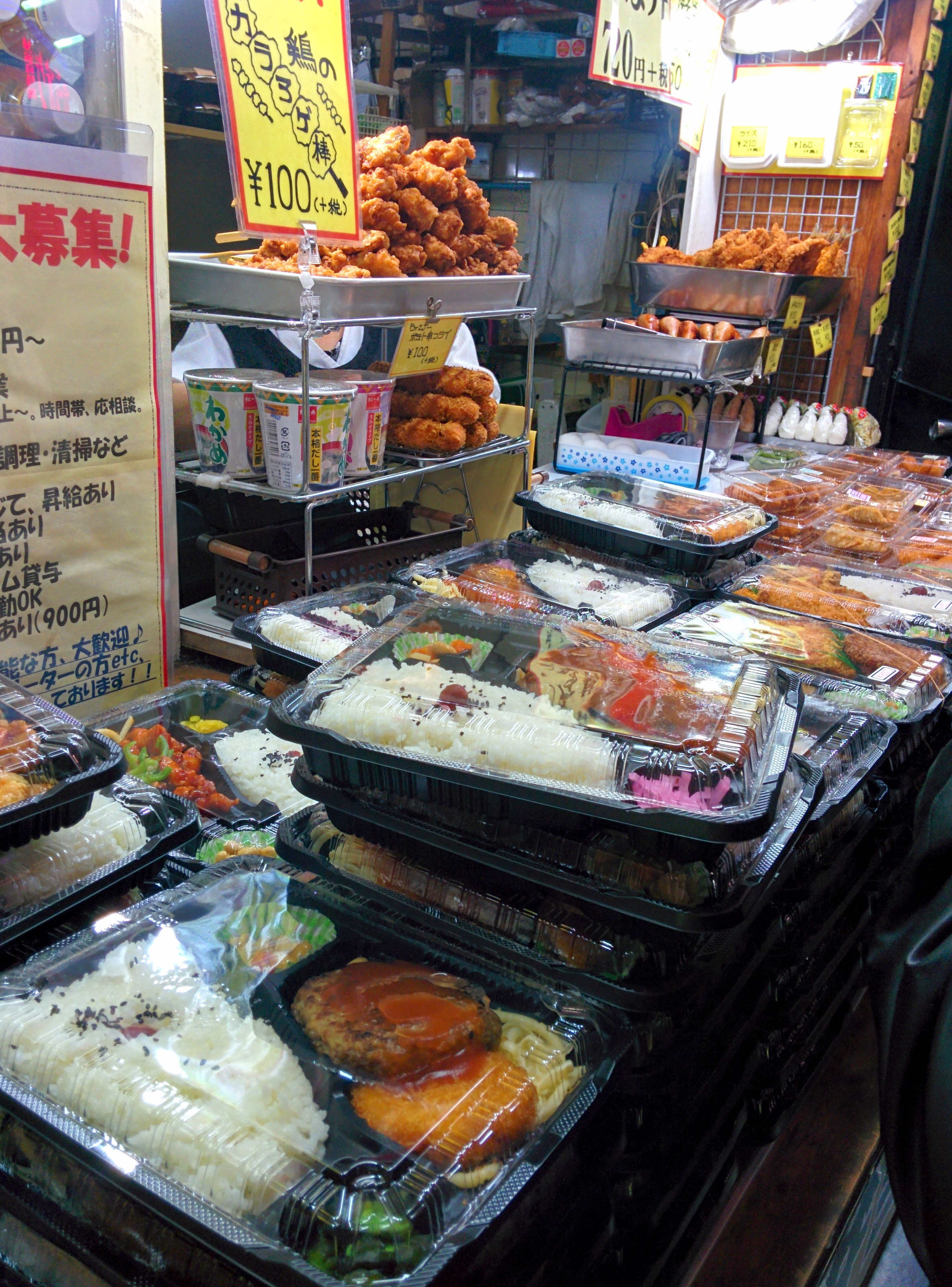 My feet were aching by the end, so I headed home to the hostel, worn and weary. After some relax and refresh time, I went out and grabbed dinner with two other folks I met at the hostel. One was an English teacher in the Philippines, the other was… oh actually, I'm not sure, I don't thing I ever found out what he did for a living! What he really was though, was a magician! And I'd say an impressive one at that.
He performed several card tricks, pulled an orange from behind my ear, and made rubber bands separate and form again! The Aussie horse breaker claimed he knew all of this guy's tricks now, and begged the magician guy to try performing the tricks on him, but he refused. I guess I can be pretty gullible about that stuff, but I really do love magic (or should I say the art of illusion?)
The three of us headed to a nearby restaurant where I had some tempura and soba noodles. Afterwards we just hung out at the hostel and had a few beers.
It was a pretty crazy night for some people – because of the holiday weekend, all accommodation was booked solid in Tokyo. In fact, when I was deciding where to stay, I watched as more and more places became booked solid. I quickly grabbed a spot at the hostel while I could, and I sure am glad I did because several people had no place to stay Saturday night. In fact logging on just the day after I booked my hostel, Booking.com had a little pop-up noting that "98% of accommodation in Tokyo is booked full!" I can't imagine how that is possible, but that was definitely the case!
Several people in the hostel had Friday and Sunday booked, but couldn't get Saturday. There was actually a solid group in this unfortunate predicament. Some of them stayed out, cat napping at 24 hour cafes and even renting karaoke rooms to rest in (yes, karaoke is really that prevalent in Asia).
The two Australian girls I mentioned earlier ended up renting a room in an internet café. I actually read about this earlier, and it's pretty funny. I guess it's supposed to be for gamers who game all night. You rent these tiny rooms, no bigger than a futon and a small space for a computer, and you can go online, play games, sleep – whatever! The girls said the rooms were insanely small and they couldn't even stretch out all the way, but they were better than nothing. Plus there were weird perks – like free ice cream and soup! Sounds cool, kinda wish I had done it!
I feel when I travel I often am torn between going out and partying vs. getting a good night sleep. On one hand, I want to go out and experience the nightlife of a city, but on the other hand, I often have a lot I want to see during the day and can't afford to be in a zombie state. This crowd was pretty tame, which I actually liked since it really was a pleasure to talk with all these different people with such great stories (travelers are always an interesting bunch)!