On Friday evening I arrived in Tokyo and, in a classic sweaty mess, grabbed the airport train towards Tokyo Station. Getting off at Tokyo Station was quite the introduction to Japan – people swarmed everywhere in the heat of rush hour. It was absolutely insane, and probably the most claustrophobic I've ever felt. Even on the other side of the station, up the escalator, and around the corner, everywhere was packed with people.
 I'm so glad I read up a lot on Tokyo's subway system, because it's very confusing at first (although after a couple days I felt navigating it was a breeze). I somehow managed to buy a ticket and get to the station near my hostel.
The hostel, Anne Hostel Yokozuna, was really great – everything was very clean, the beds were spacious and comfy, and the bathroom was very nice and well organized. Everything was in new and perfect condition!
The dining area was also very nice – it was a large room with several long, low-to-the-ground (Asian style) tables that made it easy to meet and talk with other travelers. One really cool feature about this hostel (and it's probably also true of other hostels in Japan, although I can't say for sure), is that once you step in the door, you have to put on the foam slippers they provide. There is a shoe room you keep your shoes, and you only take your shoes out and put them on when you are leaving the hostel. I thought this was really neat, and it definitely helps keep things cleaner.
I really can't recommend this hostel enough if you're ever heading to Tokyo. It's cheap (was only $22/night when I went) and is in an amazing location, just 3 minutes walk from the Ryogoku Toei line and a 5 minute walk from the JR line. There's also tons of great restaurants within a stone's throw, plenty of little shops, and things to explore.
Starving after my trip, I asked at the front desk where I should eat and was directed to a nearby ramen place around the corner that was absolutely fantastic! Even with my Japanese limited to "konichwa" and "arigato," everyone was very friendly and kind to me in restaurants. Most places offered an English menu, so it was really pretty easy.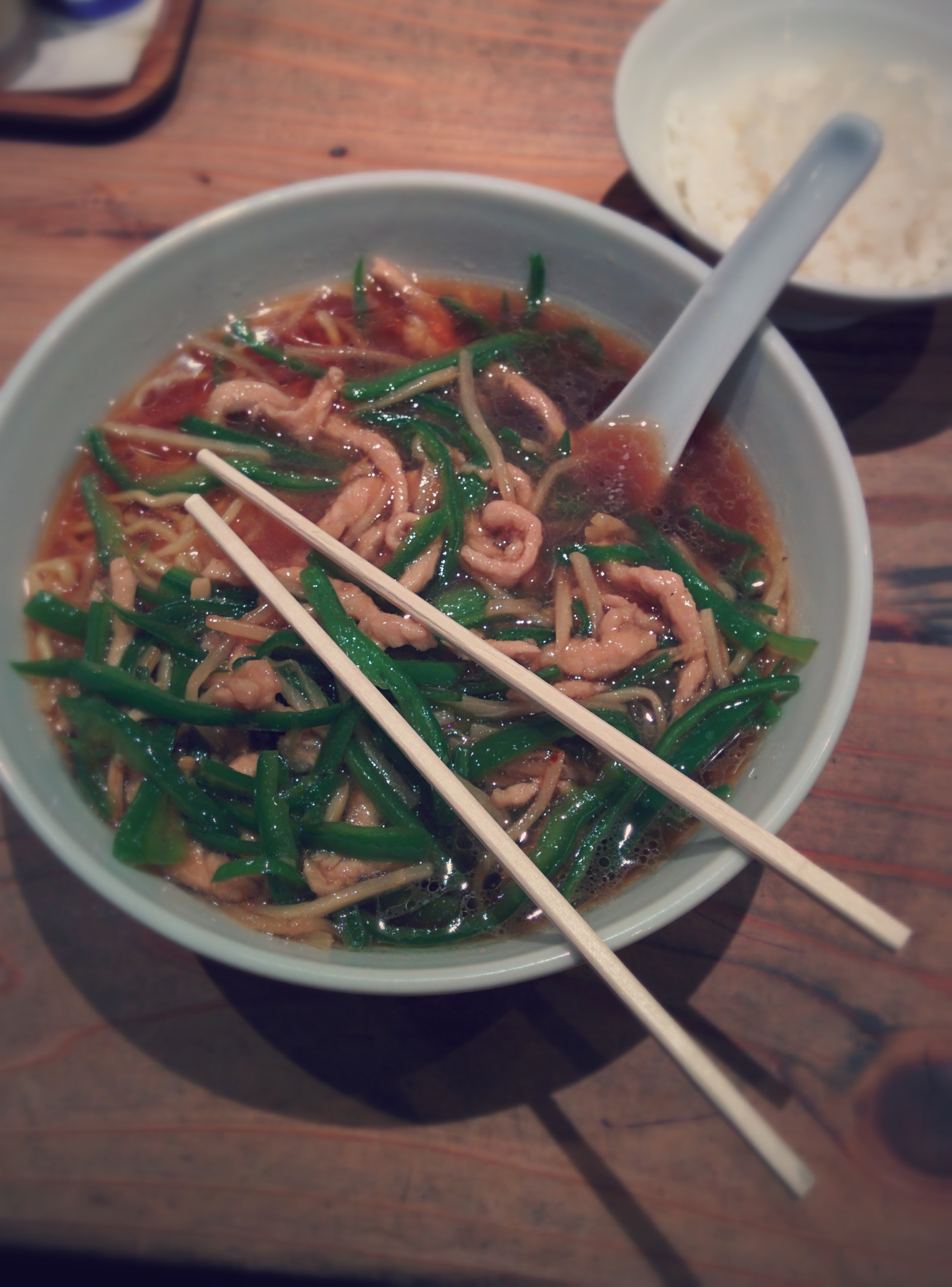 When I got back, and I ended up chatting with some Australians who were visiting. Man, the Australians are just everywhere, gotta love 'em. We talked about our perspective trips while the Aussies quizzed me on my Australian slang. Most of the people there were close to my age (which is nice, because sometimes hostels can be a much younger crowd) and many were traveling for a month or more! It made my two weeks seem paltry in comparison.
One of the Australians in particular had a really interesting background – he actually works as a horse breaker! He was hired by a ranch in Sapporo, Japan and they flew him out, gave him his own car, paid for his lodging, etc. (in addition to a salary). He said he's probably going to keep traveling on various horse breaking gigs for a while. Each are usually several months long. He was looking into going to Canada next for a gig there. I just think that's the coolest idea!
Two others girls I talked with had some neat backgrounds too – one is finishing her masters for social work, the other works as a bondswoman (aka a bounty hunter)! Despite our best efforts to get stories out of her, she admitted her work wasn't as glamorous as Dog the Bounty Hunter might make it seem. She said usually it's just demanding money from people. They either give to the money or they are forced to go to court later. No stun guns, no ninja stars, no roundhouse kicks. So sad.
Tomorrow is my first big day in Tokyo, I'll let you know how it goes!