The toilets of Tokyo are unique and magnificent. Here are a few I spotted during my short trip:
This toilet found at the Narita airport was my introduction to the wondrous world of Japanese toilets. This gem features a toilet arm rest providing buttons for running water music (with volume control) to cover indiscreet bodily sounds. It offers two types of sprays – one going in an upwards direction, and another spraying from behind one's behind. The spray pressure could be controller, and there was even a button to let out a deodorizing spray!
This toilet was found at the Ryogoku metro underground. This was my first encounter in Japan with squat-style toilets. Despite being considered lowly or even barbaric in the Western world of porcelain potties, this squat-style toilet was very clean and contained a small wall console that provided the ever-popular running brook white noise to cover more unmentionable sounds. Note the convenient handle bar
Our next glorious Tokyo toilet was found in the basement of Mitsukoshi, the Ginza shopping center. It boasted a comprehensive wall panel for various sprays with customizable pressure levels, plus a flush button and a sensor which, when covered, emitted that beloved running water sound.
This toilet was found near the Asakusa temple. Another squat style, this toilet lacked some of the more advanced features of other wash closets, but still has a sensor which could be conveniently covered for babbling brook jams.
This Tokyo toilet was located in the bowls of the Shinjuku train station. It had the classic sensor which could be covered for running water noises, plus a small bathroom waste bin which opened with a motion-activated sensor.
This glistening piece of porcelain mastery was found in the Shibuya station area. This squat-style toilet offered a sound sensor and a waste basket activated sensor.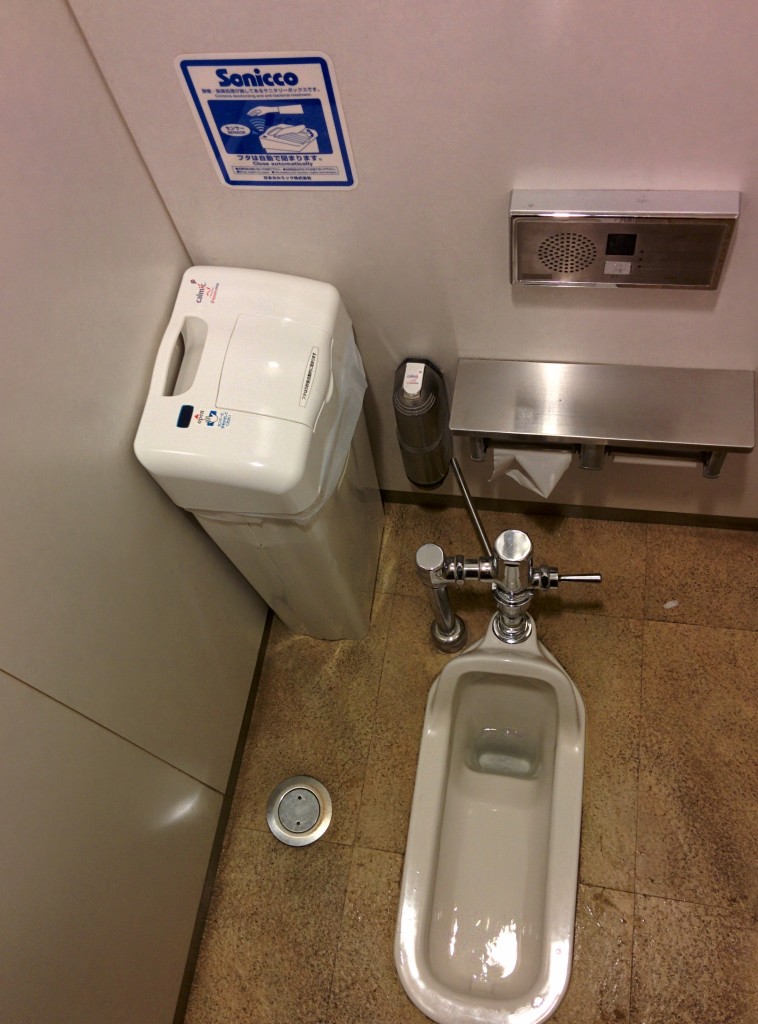 Lastly we come full circle with another Tokyo toilet from the Narita airport. This toilet has another water sound sensor, plus a plastic seat casing that would reset for new users.
Tokyo toilets are wondrous to behold! Lavatory legends, the toilettes of Tokyo cannot be missed!